Roger Burton
President
Roger is a business owner and consulting actuary, managing his company, based in Bothell, since 2006. Roger has been a past board member of the National Multiple Sclerosis Society and actively fundraises for them every year. He is active in local politics, currently serving as Chair of the Bothell's Legislative District political group.
Roger grew up in Kenmore, and he has been a Bothell resident since 1997. He is an active cyclist, runner, and walker and frequents the local trails often. He helps to maintain the trail system on Norway Hill and Blyth Park and is working with the Board to help preserve and restore the park on the former Wayne Golf Course property, as well as to expand recreational opportunities in the City.

David Bain
Vice-President
David actively works with the nonprofit community to restore the health of Puget Sound. He has a Ph.D. in Biology from the University of California at Santa Cruz, with post-doctoral work at the UC-Davis and the National Marine Mammal Lab in Seattle. He has been studying killer whales since 1978, helping develop killer whale recovery strategies in the US and Canada, and the marine-life portion of the Northwest's oil spill response plan.
He is president of Cascadia Environmental Science Center, Vice President of Friends of North Creek Forest and is on the Bothell Shoreline Board. He also serves on the boards of Sound Action, SnoKing Watershed Council, Orca Conservancy and Bothell Parks Foundation, and has been active in the King and Snohomish/Camano ECO Nets. David received a Puget Sound Hero Award from People for Puget Sound for his work protecting the nearshore habitat of Maury Island from development. He has lived in Bothell since 1998.

Sallie Glerum
Secretary
Sara "Sallie" Glerum retired from corporate America in 2005 to pursue life-long interests in writing and editing. She has a B.A. in Drama and Certificates in Non-Fiction and Editing from the University of Washington. She was a founder of the Lake Forest Park Streamkeepers in the '90s, a volunteer group formed to measure water quality quarterly in LFP's two fish-bearing streams and founded its newsletter, Streamers, to report the group's quarterly results.
Sallie has lived in Bothell since 2010 and actively participates in the community, including writing and editing material for the original OneBothell website. As a member of the Board, she looks forward to stoking community involvement in the restoration of the land comprising former Wayne Golf Course.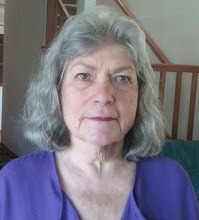 Estelle Isakson
Treasurer
Estelle grew up in the Mt. Baker district of Seattle, graduating from Franklin High School decades ago.  She has lived in seventeen different locations all over the US and England, returning to this area in 1996 and settled in Bothell.  She retired in 2000 to relax and enjoy her far flung families.
Estelle has a BS in Accounting from California State University and an MBA in management from Golden State University. She and her husband, John, were overjoyed when Bothell acquired their area of Norway Hill. Estelle is interested in volunteering and being involved in her community. She spent several years as Treasurer on the Seattle Musical Theater Board.  In January of 2019 a OneBothell board member invited her to a meeting and she agreed to join and be the Treasurer.

Tami Cobb
Communications Director
Tami works with the City of Kirkland Parks and Community Services department and worked for the City of Redmond Parks and Recreation Department for 16 years. She has extensive experience in recreation programming with a specific emphasis on Outdoor Nature Programs.  She has also worked for Nature Vision and Shoreline Community College, as an advocate and instructor of nature based programs for young children and families.
Tami has a degree in Geology and a Master's in Education. She is the mother of three and grandmother of six.  She and her husband are avid Sounders fans, enjoy being outside biking, hiking, and being with family.  They moved to Bothell in 2011 and are excited to be involved in the transformation and restoration of the former Wayne Golf Course property.

James Slonsky
Director at Large
James is an independent consultant currently working at Microsoft for over 20 years in various product, field, partner and services roles.  James brings extensive Project Management experience driving global enterprise programs from planning, communications, readiness & enablement, and landing perspective. 
James has lived in the Seattle area since the early 90s, and he and his family moved to the Bothell Norway Hill neighborhood in 2008.  He is an avid outdoorsman growing up camping in the mountains of the Philippines where his family donated food, clothing and medicine to local natives.  He hikes the Tolt Pipeline trail down to the former Wayne Golf Course any chance he gets and brings his children with him down to Blyth Park. As a member of OneBothell's Board, he is excited to help represent the community and contribute to the evolution of our city's newest park.

Philip Kienast
Director at Large
Since moving to Bothell in 1970, Phil has been involved in saving open space, both as a city councilman and a founding member of Save A Valuable Environment(SAVE). As a result, the North Creek valley now is home to sports fields, creek enhancements, and trails— instead of a shopping center.
After 41 years as a professor at the Foster School of Business at the main campus of the University of Washington, Phil retired in 2011. He enjoys  biking, hiking, sailing, and gardening. As a OneBothell board member, his focus is on raising organizational support and funds to transform Wayne land into a haven of passive recreation, as well as an environmental learning center for the public.

Dr. Jeff Jensen
Director at Large
Jeff grew up in Bothell and Kirkland, and his earliest memories are of chasing salamanders, spiders, and especially fish. Much of his childhood was spent exploring the local creeks, including Juanita Creek, Swamp Creek, and North Creek.  Finding spawning salmon was, and continues to be, a great joy for him.
Jeff graduated from Juanita High School and earned his bachelor's degree in Fisheries and Zoology from the University of Washington, Seattle.  After graduating from the UW he moved to Boston and graduate school and earned a Ph.D. in Evolutionary Biology from Harvard University.  In 2012 he accepted a position at the UW Bothell campus.  He is delighted to be back home – a place where, with proper stewardship, not only the trees but the streams themselves can fill with color every year.
Founding Members:
---

James McNeal
Founding member James McNeal stepped away from the Board of Directors after being elected to the Bothell City Council in November 2014. Although the organization's directors were saddened by the resignation of their president, they understood James' need to fulfill his campaign pledge of transparency. James served as a passionate and outspoken advocate for OneBothell's original mission of preserving Wayne Golf Course as open space. His disassociation from the possibility of political overtones allows him to conduct city business without bias.
Growing up in Bothell, James's abiding affection for the region has never wavered. He and his wife care so deeply for the city, they have intentionally chosen it to be home for them and their twin sons. In addition to serving the City of Bothell as a council member and his work as a project manager for a construction company, James volunteers as a Little League coach and at i9 Sports.

Jonty Barnes
Jonty was a co-founder of OneBothell and now serves as a publicist and digital media manager. In this capacity, he oversees communication about the organization's purpose and activities, assuring public awareness and current, accessible information through media coverage and our website here at OneBothell.org.
Jonty has been involved with the games industry since 1989, most notably as Al Programmer for Bullfrog's Dungeon Keeper, and leading game teams and serving on the board at Bungie, the company responsible for inventing two popular video game franchises, "Halo" and "Destiny." His degree in Computer Systems Engineering is from the University of East Anglia, Norwich, England. He has lived in Bothell since 2006. Jonty greatly enjoys the outdoors, his hobbies include skiing and hiking and he is a self-described obsessed soccer fan.

Jesse Sears
Jesse, Immediate Past President (2014-18) and founding member of OneBothell, has made numerous appearances in public forums informing and educating citizens about the need for, and benefits of, open space and restoration of fish and wildlife habitat. Jesse was instrumental in the development of OneBothell's mission and subsequent success.
A local firefighter, Jesse holds an Associate Degree in Fire Technology from Lewis-Clark State College in Lewiston, as well as a Bachelor's degree in Recreation and a Master's degree in Adult Education and Organizational Learning from the University of Idaho. He has lived in Bothell since 2010. Jesse has been a Whitewater rafting guide for 15 years, participates in other water adventure activities, and is known for his expertise in water rescue.