Roger Burton
President
Roger is a business owner and consulting actuary, managing his company, based in Bothell, since 2006. Roger has been a past board member of the National Multiple Sclerosis Society and actively fundraises for them every year. He is active in local politics, currently serving as Chair of the Bothell's Legislative District political group.
Roger grew up in Kenmore, and he has been a Bothell resident since 1997. He is an active cyclist, runner, and walker and frequents the local trails often. He helps to maintain the trail system on Norway Hill and Blyth Park and is working with the Board to help preserve and restore the park on the former Wayne Golf Course property, as well as to expand recreational opportunities in the City.

David Bain
Vice-President
David actively works with the nonprofit community to restore the health of Puget Sound. He has a Ph.D. in Biology from the University of California at Santa Cruz, with post-doctoral work at the UC-Davis and the National Marine Mammal Lab in Seattle. He has been studying killer whales since 1978, helping develop killer whale recovery strategies in the US and Canada, and the marine-life portion of the Northwest's oil spill response plan.
He is president of Cascadia Environmental Science Center, Vice President of Friends of North Creek Forest and is on the Bothell Shoreline Board. He also serves on the boards of Sound Action, SnoKing Watershed Council, Orca Conservancy and Bothell Parks Foundation, and has been active in the King and Snohomish/Camano ECO Nets. David received a Puget Sound Hero Award from People for Puget Sound for his work protecting the nearshore habitat of Maury Island from development. He has lived in Bothell since 1998.

Sallie Glerum
Secretary
Sara "Sallie" Glerum retired from corporate America in 2005 to pursue life-long interests in writing and editing. She has a B.A. in Drama and Certificates in Non-Fiction and Editing from the University of Washington. She was a founder of the Lake Forest Park Streamkeepers in the '90s, a volunteer group formed to measure water quality quarterly in LFP's two fish-bearing streams and founded its newsletter, Streamers, to report the group's quarterly results.
Sallie has lived in Bothell since 2010 and actively participates in the community, including writing and editing material for the original OneBothell website. As a member of the Board, she looks forward to stoking community involvement in the restoration of the land comprising former Wayne Golf Course.
Katie Stiles
Treasurer
Katie has worked with multiple tech companies in the Pacific Northwest, managing both the financial and operational sides of the business. She creates financial systems, process, and teams to manage significant growth at different business stages, including the transition from private start-up to exits. She holds a BA in Accounting from Central Washington University and a Technology Management MBA from the University of Washington, Bothell.
An avid hiker and all-around outdoor enthusiast, when she's not working it's a safe bet you'll find her on a local trail, park, or beach. As a member of the Board, she strives to engage the community in preserving and experiencing nature for mental and physical wellness.

Tami Cobb
Communications Director
Tami works with the City of Kirkland Parks and Community Services department and worked for the City of Redmond Parks and Recreation Department for 16 years. She has extensive experience in recreation programming with a specific emphasis on Outdoor Nature Programs.  She has also worked for Nature Vision and Shoreline Community College, as an advocate and instructor of nature based programs for young children and families.
Tami has a degree in Geology and a Master's in Education. She is the mother of three and grandmother of six.  She and her husband are avid Sounders fans, enjoy being outside biking, hiking, and being with family.  They moved to Bothell in 2011 and are excited to be involved in the transformation and restoration of the former Wayne Golf Course property.

Philip Kienast
Director at Large
Since moving to Bothell in 1970, Phil has been involved in saving open space, both as a city councilman and a founding member of Save A Valuable Environment(SAVE). As a result, the North Creek valley now is home to sports fields, creek enhancements, and trails— instead of a shopping center.
After 41 years as a professor at the Foster School of Business at the main campus of the University of Washington, Phil retired in 2011. He enjoys  biking, hiking, sailing, and gardening. As a OneBothell board member, his focus is on raising organizational support and funds to transform Wayne land into a haven of passive recreation, as well as an environmental learning center for the public.

Dr. Jeff Jensen
Director at Large
Jeff grew up in Bothell and Kirkland, and his earliest memories are of chasing salamanders, spiders, and especially fish. Much of his childhood was spent exploring the local creeks, including Juanita Creek, Swamp Creek, and North Creek.  Finding spawning salmon was, and continues to be, a great joy for him.
Jeff graduated from Juanita High School and earned his bachelor's degree in Fisheries and Zoology from the University of Washington, Seattle.  After graduating from the UW he moved to Boston and graduate school and earned a Ph.D. in Evolutionary Biology from Harvard University.  In 2012 he accepted a position at the UW Bothell campus.  He is delighted to be back home – a place where, with proper stewardship, not only the trees but the streams themselves can fill with color every year.

David Hablewitz
Director at Large
David is an I.T. consultant and business owner and has lived in Bothell since 2000. He has a bachelor's degree in Computer Science from The University of Florida, is a PMI Certified Project Management Professional, a Distinguished Toastmaster and has been awarded IBM Champion 5 times and HCL Ambassador 3 times for his contributions to his field.
David has a lifelong history promoting environmental protection. He has been in the Sierra Club for 27 years, but his appreciation for the wilderness developed while growing up in Florida where he spent his weekends camping with his Boy Scout troop on his way to earning Eagle Scout. Today he enjoys a broad variety of wilderness sports – whitewater and sea kayaking, mountain biking, backpacking and snowboarding and stories of his adventures can be found published in magazines like American Whitewater. He can often be seen walking with Freddy the Bassett on the Sammamish River Trail.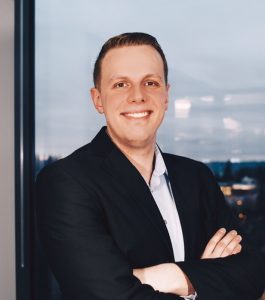 Michael Morelli
Director at Large
Michael is a cyber security engineer residing in Kenmore. He has a Bachelor of Science in Security & Risk Analysis from the Pennsylvania State University. He is regarded as an expert in architecting and implementing complex security systems and holds multiple certifications in both computer forensics and security operations.
Michael is passionate about protecting the environment and enjoys all the natural beauty that the Pacific Northwest has to offer. Depending on the season you'll find him running, hiking, biking, skiing, or paddle boarding. As a board member of OneBothell, he strives to protect and preserve the former Wayne golf course with the goal of transforming it into a space that can be enjoyed for generations.
---